New Providence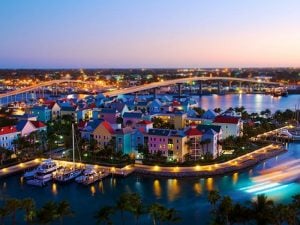 Nassau is the center of industry, commerce and communications. There remain well-preserved colonial buildings, attractions, duty free shopping, pristine beaches, wonderful cuisine and cultural activities.
Paradise Island boasts gorgeous beaches, luxury hotels, the largest casino within The Bahamas and first class entertainment.
With the lure of a big city and the ease of tropical utopia, Nassau & Paradise Island are considered by many as, well, paradise. Nassau, the capital of The Bahamas, is a bustling metropolitan hub full of culture and modern amenities. To the north lies Paradise Island. Its name tells you everything. Its 685 acres of pure euphoria, developed almost exclusively to delight and accommodate visitors. The island boasts resorts, hotels, restaurants, shops, nightlife, a golf course, an aquarium and a casino.
Nassau, the capital city of The Bahamas, is located on 21-mile-long New Providence, our 11th largest island. Nassau's main harbor is protected by Paradise Island. The harbor attracted settlers in the early days, particularly pirates. In fact, Nassau's population consisted mainly of pirates until 1718, when The Bahamas first Royal Governor, Woodes Rogers expelled them, restored order and built Fort Nassau. The Bahamas for centuries adopted Rogers' motto, "Expulsis Piratis, Restituta Commercia," which means, "Pirates Expelled, Commerce Restored." Now, 212,000 people call New Providence Island home, with a large portion of them residing in Nassau.