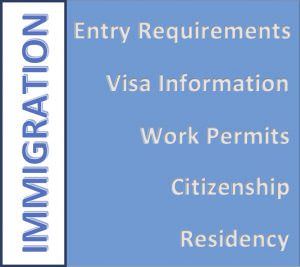 Congratulations, you are on your way to owning your very own home! Below you will find information on immigration procedures that you may have questions or concerns about.
Bahamian immigration rules are designed with the view that everyone wants to immigrate to the tiny Bahamas- which, if this were to occur, would sink under the weight. Consequently, while tourism and investments are encouraged, true immigration is possible but tightly controlled.
Visas, work permits and residency permits are available. Generally, everyone entering The Bahamas except Bahamians MUST fill out an embarkation-disembarkation card usually provided by the travel agent, airline or ship. Non-residents surrender the specified part when departing.
 Entering the Bahamas – PASSPORTS & Visas
The Bahamas is a major tourist destination, so we make every effort to keep visitors' Immigration formalities to a minimum.  However, entry requirements do vary from country to country, so nationals of non-Commonwealth countries should enquire at the nearest British Consulate or Bahamian Embassy for information on these.
All visitors must have a return or onward ticket, and a valid travel document (such as a passport and visa) to allow entry into another country as applicable.  Visitors may also be asked to produce evidence of sufficient funds to allow them to be self-sustaining whilst in the Bahamas.
Visitors may remain in the Bahamas for a maximum period of 8 months, provided that (s)he can support himself / herself or indicate other means of support for this period.  Please note that the maximum period of stay, documented in visitors' passports, may vary, as this is dependent upon the discretion of the immigration officer at the port of entry.  Should you desire to extend your visit, permission must be sought from the Department of Immigration; please visit your nearest Immigration Office.   Visitors are not allowed to engage in any form of gainful occupation (work) while in the Bahamas.
PASSPORTS
Passports are required by all persons entering The Bahamas.
VISAS
All persons entering The Bahamas require a Bahamian visa except the following persons:
United States Citizens entering as a bona fide visitor for a stay not exceeding eight (8) months. Alien residents of the United States who, upon arrival, are in possession of United States Alien Registration Cards for visits not exceeding thirty (30) days.
Canadian citizens Landed immigrants, in possession of Canadian Immigration Record Form 1000 may enter without a visa for visits not exceeding 30 days.  These persons should have a national passport.
United Kingdom citizens.
Citizens of Western Union.
British Commonwealth citizens with the exception of the following countries:

 Pakistan.
Cameroon.
Mozambique.
India.
Nigeria.
Ghana.

Citizens of South American countries, however the nationals of the following countries can visit for periods not exceeding 3 months:

Argentina.
Bolivia.
Brazil.
Chile.
Colombia.
Costa Rica.
Ecuador.
El Salvador.
Guatemala.
Honduras.
Mexico.
Nicaragua.
Panama.
Paraguay.
Peru.
Uruguay.
Venezuela.
For detailed visa requirements for all other nations please click here.
Proof of citizenship is required, however, and may include: U.S. Passport, even if expired; birth certificate, baptismal certificate bearing church seal; original naturalization certificates. Unacceptable documents (except as supporting information): Social security cards, voters registration cards, membership cards, drivers licenses. Visas are not required for U.S. citizens entering as bona fide visitors if stays are eight months or less.
(Immigration Information obtained from the Dept. of Immigration Website)
NO VISA REQUIRED:
Persons possessing a valid Bahamian residence or work permit from the Director of Immigration; persons in transit including stateless persons with valid refugee and stateless person documents if they have tickets onward and stay no longer than three days.
MAXIMUM STAY:
Eight months with proper documents including a return ticket and evidence of financial support. Those wishing longer stays may apply for temporary residence to The Director of Immigration Department, P.O. Box N-831. Nassau, The Bahamas. Tel. (242) 322-7530. Visitors and temporary residents may not engage in gainful employment while in The Bahamas.
CITIZENSHIP, RESIDENCY & WORK PERMITS
Bahamian Immigration Department permits are needed for those who wish to reside, work or engage in business, including selling. Applications must be supported with these documents: A police certificate covering the last five years or in the UK, a sworn affidavit of good character; two character references from responsible persons in the home country or The Bahamas; two full face photographs signed on the back by the applicant (max size 3 x 3 inches; min. size 2 x 2 inches) and a valid health certificate not more than 30 days old.
CITIZENSHIP
The Bahamas Constitution and the Bahamas Nationality Act, 1973, detail the acquisition and loss of citizenship. Persons born in The Bahamas before July 10, 1973, or outside The Bahamas to a Bahamian father became Bahamian Citizens on Independence Day, July 10, 1973, as did most persons registered as a citizen of The Bahamas under the British Nationality Act of 1948. Persons born in The Bahamas after Independence are citizens if either parent is a Bahamian citizen and are entitled to register as a citizen if born here, subject to interests of national security or public policy, by making application within 12 months after his or her 18th birthday. Persons born legitimately outside The Bahamas after July 9, 1973 to a Bahamian mother and illegitimate children born outside The Bahamas to Bahamian women are entitled to apply between the ages of 18 and 21 years subject to interests of national security or public policy. Any woman married to a Bahamian is entitled to be registered as a citizen upon application provided she is still married to that person and subject to interests of national security or public policy.
Others who are not entitled to be registered or naturalized by virtue of an existing status may apply for citizenship under the Nationality Act. Residence for a period, English proficiency and the intention to make The Bahamas a permanent home are among the qualifications.
RESIDENCY
Annual Residency
A head of household pays $1,000 plus $25 per dependent. Applicants for annual residency status must show evidence of financial support.
Male spouses of Bahamians pay a one time fee of $250 with no charges for dependents, and with proper documentation, may work here on a spousal permit.
Permanent Residency
Those who wish to settle in The Bahamas by investing in property, retiring here or opening a business usually apply for this status. Accelerated consideration for Permanent Residency can be obtained with a minimum property investment of $500,000. Applicants must be of good character, show evidence of financial support, and say in writing that they wish to live permanently in The Bahamas. Wives and dependent children (under age 18) usually resident in a household can be endorsed on the certificate when the original application is made or later, subject to conditions which may be made by the Immigration Board.
Persons with this status prior to the Immigration Act (1975) continue to hold the status automatically. Spouses of Bahamians can receive a Certificate of Permanent Residence with the right to engage in gainful employment at any time for females and after five years of marriage for males. Spousal permits may be obtained in the meantime at a cost of $250. Permanent residency can be revoked for cause including divorce. Cost of Permanent Residence is $10,000 before issuance, with endorsements free.
Work Permits
The Bahamas Government tries to ensure that Bahamians are given fair consideration for employment. A work permit application is not considered if a suitably qualified Bahamian is available or if the prospective employee is already in the country and entered as a visitor. If the Immigration Board considers the prospective non-Bahamian employee will be an asset to the Bahamas it reviews the application, but only after the prospective employer advertises and interviews locally and obtains a certificate from the Labour Exchange stating there is no qualified Bahamian registered who could fill the post. Permits for longer than one year may be given for key personnel on contract, often with an endorsement that the employee will be replaced by a Bahamian or will train a Bahamian to perform the job in a specified time.
Each work permit is for a specified person and job. A permit holder may apply for a new permit for a new post without leaving the island.
(Information quote from Bahamas Real Estate Association – www.bahamasrealestateassociation.com)