Exuma & The Exuma Cays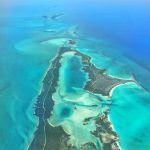 The Exumas are a pleasurable experience for anyone! Some of the bluest waters and appealing seascape can be found here. Because many of the Exuma cays are reached only by sea, boaters find island hopping in and around the Exumas a pleasure.
There are so many other intriguing Islands on which one can find tranquility, hospitality and serenity. The mysterious and superstitious Cat Island, has a claim of being Columbus' original landing site in the New World.
The Exumas are an archipelago of 365 cays and islands, beginning just 35 miles southeast of Nassau. Once called Yumey and Suma (names of Amer-Indian origin), the islands have gone through many changes over the years. Today, they're divided into three major areas—Great Exuma, Little Exuma and The Exuma Cays.
Each offers its own unique Bahamian experience. Great Exuma and Little Exuma are known for their laid-back surroundings, while The Exuma Cays act as a playground for the rich and famous, boasting numerous private homes, luxury resorts and beachside condos.
The Exumas are also rich in history, as they were settled by British Loyalists with their slaves following the American Revolution.
With sapphire-blue water everywhere, The Exumas are an exotic collection of dream destinations. Footprint-free beaches and ultra-exclusive resorts and islands make this tropical paradise an absolute gem.  Here, nature outnumbers man, coastlines remain flawless and private homes play host to some of the world's most famous stars.
The Exumas truly are the ultimate escape.
Great Exuma Real Estate Listings