If you're like many South Florida residents, you may be looking for a vacation to get away from our busy lifestyle, with its dense population, heavy traffic, and concrete as far as the eye can see. Perhaps, you're thinking of heading down to the Keys, as it's only a few hours drive, so you can see the beaches, ocean, and nature and get some fresh seafood. I mean, isn't that why we live here?
But with South Florida becoming a more open state to tourism by reducing its COVID-19 protocols, you might discover that even the Keys can get very busy, and finding accommodations and even places to dine can be difficult and expensive at peak times of the year.
On the other hand, Grand Bahama Island, which lies about 60 miles to the east of the coast of West Palm Beach, is often overlooked as a vacation spot because it lacks many of the developed aspects of a tourist destination – with just a few attractions or resorts and almost no nightlife.
Its principal area of tourism, Port Lucaya, situated in its main town of Freeport, pales in comparison to its Nassau counterpart in shopping and dining. The island's retail locations are perhaps 70 percent vacant due to years of diminished tourism from COVID and Hurricane Dorian, whose Category 5 winds caused considerable damage to businesses and devastated the eastern half of Grand Bahama in September 2019.
Why Grand Bahama
But where others see only the negatives, I see many positives. Because Nassau and the Keys overshadow it, Grand Bahama only has a seasonal peak population of about 50,000 people, so you are not competing for nearly as much accommodation and services.
The lower population versus other Caribbean nations or Nassau also carries a lower COVID risk. The CDC has recently downgraded all of the Bahamas to a Level 1 (low). The country also has much stricter COVID protocols than Florida – in addition to health visas before arrival, they require masks in every indoor location, frequent temperature checks, and hand sanitization at shopping, restaurants, hotels, resorts, and timeshares.
As it was never heavily developed as a tourist destination, Grand Bahama's white-sand beaches are pristine and devoid of people. It is also very safe because it is sparsely populated. Crimes against tourists you hear about in Nassau, San Juan PR, or Jamaica are virtually unheard of. So if you are looking for a very close place to relax, at an English-speaking destination that accepts American currency, with few distractions – as the island internet and mobile data services are horrendously slow and unreliable – Grand Bahama is a great place to go.
Before you go
Grand Bahama is very close to South Florida and is only a 40-minute flight from Fort Lauderdale on BahamasAir (and Flamingo Air and American), which use turboprop planes that arrive at Freeport's tiny (and currently temporary) airport. You can also get there by ferry, which takes about three hours, and a new Jimmy Buffett Margaritaville cruise ship from the Port of Palm Beach with overnight excursions has just begun selling tickets.
In addition to a valid passport, The Bahamas currently requires a Health Visa for each person before entering the country, so you will want to read up on their website about what is needed and begin the process. The Health Visa (all of which is processed online, $40 for vaccinated and $60 for unvaccinated) includes travel insurance ($500/day) for lodging and food should you become COVID positive before returning to the US and need to quarantine. COVID vaccinations are not required to enter the country, but you'll need a negative PCR or proctored rapid test 72 hours before arriving.
One thing to note about the Health Visa is that you may receive initial automated emails after onboarding that you must check in with the website once per day during your trip to complete a daily health survey or risk incurring hefty fines. This appears to be a remnant of the height of the pandemic when the country was an upgraded COVID risk – immigration officials told us on embarkment that we didn't need to do that. Sure enough, we did not need to do this, nor did we get any reminder emails that it was required.
Money and lodging
As the Bahamas is a former British colony (and currently a member of the British Commonwealth), the country's official language is English.
The official currency is the Bahamian Dollar, which is pegged to the US Dollar on a 1:1 basis. Because of this, there's no reason to exchange money on the island – US currency is accepted everywhere. You will usually receive change in Bahamian currency if you choose to use cash. We recommend that you spend the Bahamian dollars first, such as for tips (which we encourage you to do so generously, as it will get you that much better service in this country), or settling bills such as car rentals, as there's no point in converting it back and dealing with exchange fees when you get home. As with the US, credit card transactions are commonplace, but as we didn't see much in terms of contactless payment capability using smartphones, bring the real plastic and plenty of greenbacks.
As virtually everything must be imported, and the country's primary form of taxation comes from VAT and stamp taxes, almost everything purchased will seem expensive. Gas is around $5.50 per gallon, and good sale prices for 6-packs of soft drinks are 2 for $7. In the Bahamas, a single lime costs a dollar, whereas you might buy six to ten of them in South Florida for the same amount. A pineapple goes for about $7, and a pound of bacon is more than $10!
However, lodging is generally less expensive if you are looking to book a hotel or Airbnb. The lovely Pelican Bay Hotel is on the bay adjacent to Port Lucaya Marketplace, and across the street is the Grand Lucayan. We've also heard great things about the Bell Channel Inn ("Lovely experience. Great food and friendly staff and patrons.") where we stopped in to try the Upstairs Restaurant (and had the best conch chowder of our entire trip).
If you plan to stay longer than a couple of nights, we recommend renting an apartment where you can have some of the amenities of home. With the ability to prepare meals, there is no rushing out first thing in the morning for coffee and breakfast; laundry facilities make packing light more manageable, and parking is included. You might find good deals on sites like TUG or Redweek, where timeshare owners re-sell or rent their weeks. If you already own a timeshare, you can exchange it for Freeport/Grand Bahama locations on Interval International and RCI.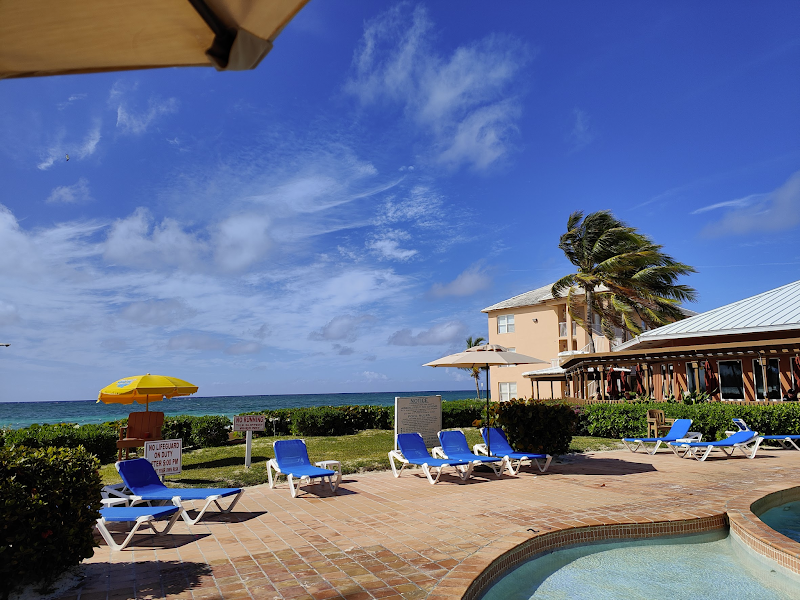 We've stayed at three different timeshares on Grand Bahama, most recently at Island Seas Resort, which is right on Silver Point Beach on the south shore, 5 minutes drive west of Taino Beach. You are walking distance to the Beachway Drive fish fry row, and Michelle's Kitchen is on the beach to the right when you step into the sand. Like many older timeshares, there were some maintenance issues, like a lukewarm hot tub. But the pool and beach location is beautiful, and the staff is friendly and hard-working. We may stay there again, or maybe we'll try one of the others available to trade – as long as we're on a beach!
If you are a boater and want to go over to the island that way, there are also apartments for rent or timeshares on marinas. Island Seas has a small marina, but many full-time boaters stay at Ocean Reef Resort and Yacht Club. You don't even have to rent an apartment if you want to stay on your boat; they have showers and other facilities available with slip rental.
Getting around
There are taxis available, but no Uber. Should you choose to rent a car, the country uses the British driving system – you drive on the left side of the road. Fortunately, most rental vehicles are configured for North American driving (typically heavily used small and medium-sized 4-cylinder cars from the US), and it's not hard to get around once you get used to the initial context switch.
It's imperative that when you make right turns, you turn right from the left lane, back into the left lane of traffic – and when you make left turns, you turn directly into the left lane of traffic. They even permit lefts on red! Just be aware of the many roundabouts at busy intersections and make sure you stay in the left lane – the right lane is for passing or "overtaking," as it is referred to on local signs.
The typical franchised car rentals exist in Grand Bahama, like Hertz, but we prefer Brad's Car Rental. It's a no-hassle, locally owned company with excellent service and reasonable prices. Your car will be waiting for you right outside Customs at the airport, and rental returns are just as easy. Park your car in the airport parking lot and leave the keys under the floormat. Give them a call to let them know where you parked it as you walk back to the terminal. Keep in mind that this is around the same experience as parking and walking into Publix, and the airport has fewer people than the Coral Springs Costco.
The island's mobile services provider is BTC, with limited 3G and 4G connectivity. To avoid expensive international roaming charges, you can contact your mobile provider in the US to issue you a coverage plan for your stay or buy a SIM card locally for as inexpensive as $30 for a 6.6GB plan. However, we found that there was enough free Wi-Fi at local shops and restaurants that only one of us needed a data plan for making local phone calls, and I was able to manage with a cheap unlocked global Android phone. We recommend downloading Google Maps before leaving and getting the offline data maps for Grand Bahama if you use GPS.
Supplies
We recommend that you stock up on basic supplies for having breakfasts or snacks in your apartment. Solomon's Supermarket and Cost Right are your best bet for these things. Make sure you bring your own bags, or they'll need to scrounge up cardboard boxes. Groceries and produce are expensive, but Regal Imports The Produce Place had limes for 55 cents – what a bargain!
While you can buy duty-free goods (and the usual Cuban cigars) at designated shops all over the island, most imported liquor is much more expensive than you would find in the US .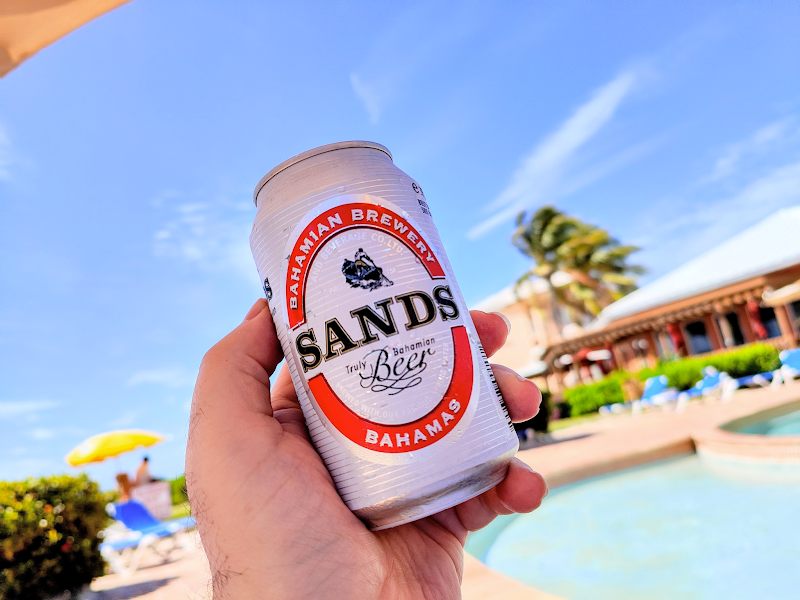 Be local; consume Bahamian-made products. The local beer, Sands, is made at Bahamian Brewery in Freeport, and they have their own liquor store where you can buy individual bottles, six-packs, and cases at discount prices. We suggest you head over there and try their original Sands, Sands Light, their Strong Back Stout (similar to Guinness), High Rock Lager, Bush Crack Malt Beer, and their "Radlers," which are fruit-flavored and made with malt liquor. They used to hold tours of the brewery, including a tasting room, but that is still suspended due to COVID.
If you're looking for rums, I suggest heading over to 700 Wines and Spirits and picking up a few bottles of Ricardo, which Todhunter-Mitchell produces in Nassau. Most of their rums are sweet-flavored rum liqueurs (they make an excellent coconut, banana, and pineapple), but they also have a white, a gold, a dark, and an Anejo, which are not expensive, at around $18 for 1L bottles. For the price, the Anejo bottling, released in 2019, is a super lovely sipping rum and a great mixer, and the dark is excellent for a ginger beer and rum (dark and stormy). The Bahamas also produces John Watling, a higher-end rum that is very good but is more expensive ($35 750ml for the amber).
What to eat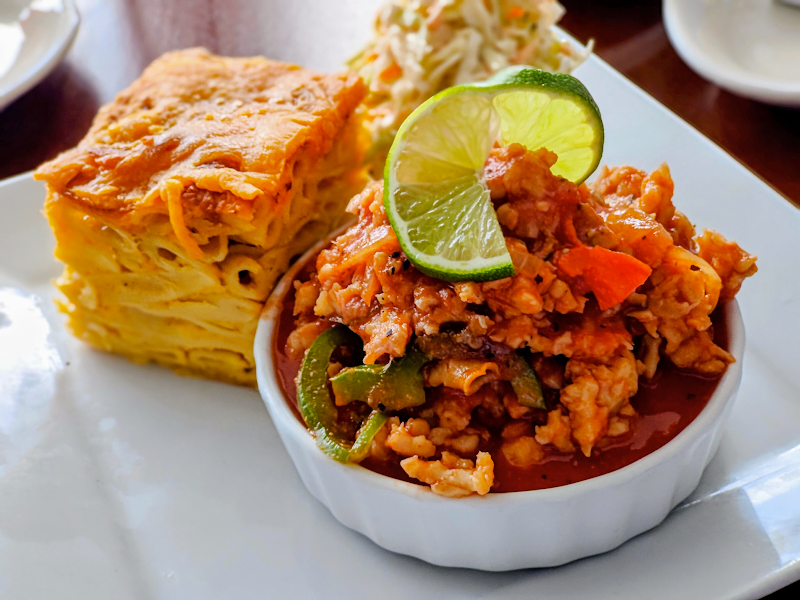 Notable restaurants
Stoned Crab is a fancy restaurant on Taino Beach which serves a wide gamut of international cuisine and wonderful cocktails. We had a great date night there, eating the most enormous Caribbean lobster tail we've ever seen.
Tony Macaroni's Conch Experience on Taino Beach is not to be missed. Not only has he made the best Roast (Grilled) Conch on the entire island for 30 years running, but he is quite a character and will demo the entire conch shelling and cleaning process for you ("crack it, stick it, and pull it") if you're patient. Tony is full of more suggestions on where to go and the best places to eat. We suggest going there on an off-hour towards the beginning of your trip.
Upstairs at Bell Channel Inn is a water view restaurant mainly known to locals and where we've had the best conch chowder (and steamed conch) we've ever eaten. Their drinks and fresh-baked coconut bites are fab, too.
Bishop's Beach Club at High Rock – we had a great meal here on the beach, eating local Bahamian food and enjoying cocktails such as Goombay Smash, Rum Punch, Yellow Bird, and Bahama Mama.
In the Lucayan Marketplace, Zorba's is a legit Greek restaurant that has been around since 1992. They've also got a great coffee shop where they can make you a real espresso drink.
Agave, also in the Lucayan Marketplace, is a fun Bahamian-Mexican restaurant. Tacos, quesadillas, burritos, and of course, Margaritas galore.
In the Pelican Bay Hotel, Sabor features a gorgeous waterfront view of Pelican Bay, serving very well-executed continental cuisine.
While American and international cuisines are available at various restaurants, we suggest you go native and eat the local cuisine because that is where you will get the best flavor and the best value.
The local flavor
Bahamian food is a simple island cuisine composed chiefly of local fish such as snapper, grouper, and conch, which are prepared simply, such as deep-fried, steamed (typically in a tomato sauce), in stews, or grilled. In addition to British cuisine, it is heavily influenced by other Caribbean cuisines and also the "Soul Food" of the American black diaspora.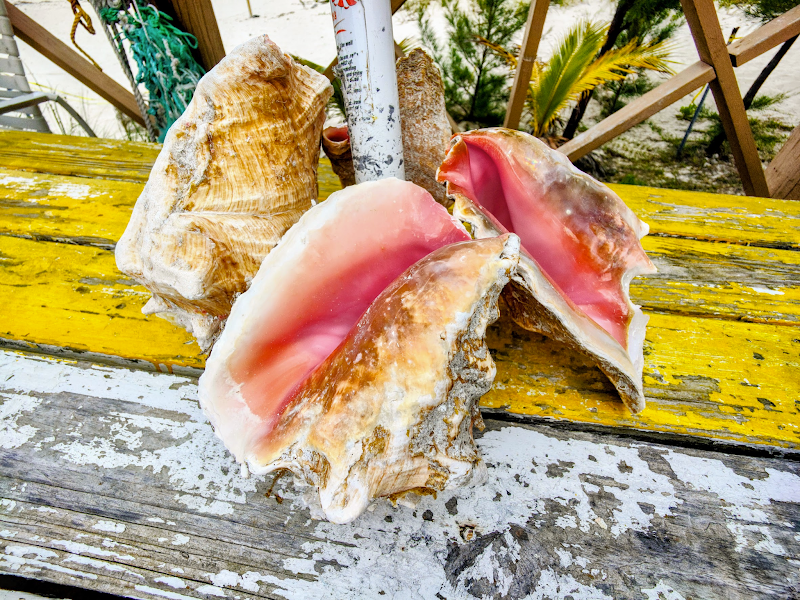 Conch, a giant marine gastropod (snail), has the texture of very tender calamari and a flavor similar to clam. It can be found prepared as a chopped ceviche-like salad with tomatoes, onion, peppers, and citrus juice at various roadside stands, in addition to being served "cracked" (deep-fried), in fritters, steamed (in a creole tomato sauce), as chowder (red, similar to Manhattan or Rhode Island clam chowder), and also grilled (in aluminum foil packets) with tomatoes, onions, and peppers, which is our favorite preparation.
Other proteins typical of the island include chicken, pork (especially BBQ ribs), and other seafood such as Caribbean lobster, shrimp, and crab.
The ubiquitous seasoning blend used in Bahamian food is "Complete," which is used in many dishes and is a combination of salt, pepper, garlic, onions, dehydrated vegetables, and MSG. In addition to Jerk-style seasoning and other common Caribbean spices seen in Jamaican and different island cuisines, they also use sweet BBQ sauces (often using guava paste).
Bahamians pride themselves on their home-made pepper sauces, which are frequently made with lime juice, garlic, salt, and a blend of chile peppers that include "Goat" (Scotch Bonnet or Habanero), Bird Pepper, Cayenne, and Ghost Pepper, which is added to everything to spice up a meal. Make sure you ask for it specifically, as they don't think most Americans can handle the heat.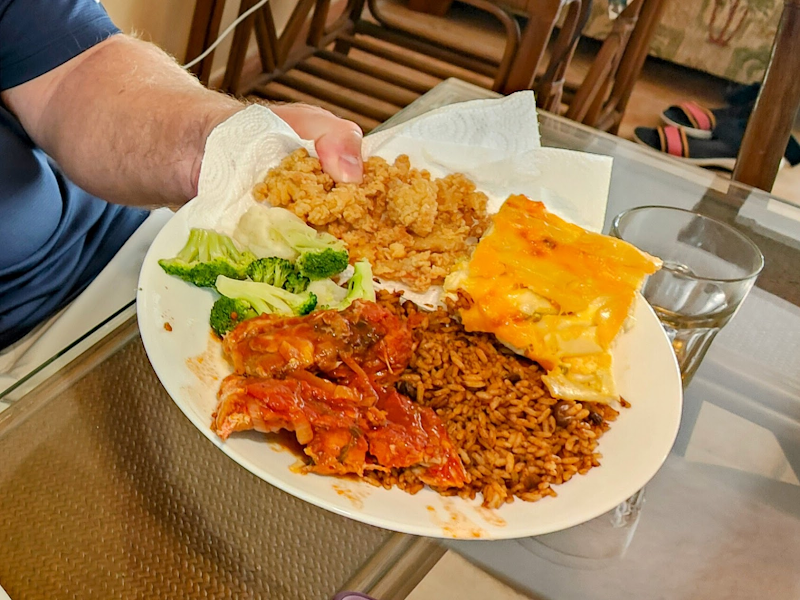 Typical side dishes for proteins include:
Peas & Rice is similar to Cuban Arroz Congri or Puerto Rican Arroz con Gandules but more heavily seasoned.
Coleslaw
Potato Salad
Coconut and Raisin Breads
Mac & Cheese differs from the American version as it is frequently made with condensed milk and is spicier with the addition of hot sauce and chopped chile peppers, and English mustard. Everyone makes it differently, so let us know who makes your favorite.
Steamed or boiled vegetables
Although you can find these typical dishes at restaurants and roadside eateries, we highly encourage you to try food made by locals – ask discreetly among staff at your accommodations, as the underground economy is strong with bartering and cash transactions. We had a wonderful, plentiful, and extremely inexpensive meal prepared and delivered to our condo by a local cook (Carol Wilson, +1 242.533.9730, contact via WhatsApp), who caters to timeshare guests and seasonal residents out of her home kitchen.
Fish Frys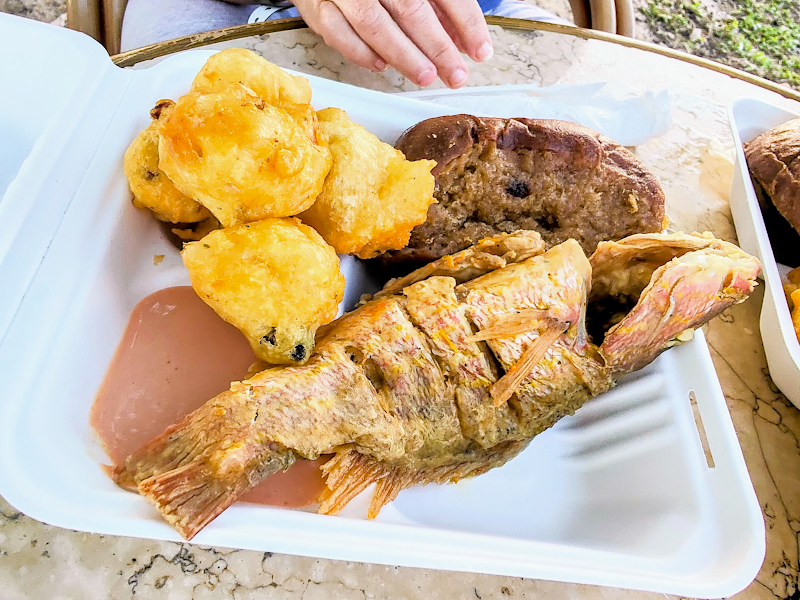 The Fish Fry at Smith's Point Beach is open on Wednesday and Saturday nights (you might see them open for private parties on other nights). They frequently have long lines – for the same food you can get at every beach restaurant. Unless you are into the loud music and tourist atmosphere, there are better places to spend your money.
For example, on the minor road leading to the Fish Fry is Da Bus Stop, run by a lovely Jamaican lady named Valerie. She will have a variety of fish to try, fried or grilled, and makes a terrific Escovitch of pickled and sauteed vegetables for a side.
There is also a fish fry row along Beachway Drive in Williams Town. It is open daily and patronized by locals. Our first meal on the island was at Marva's Place – as Beachway Drive was right around the corner from our timeshare apartment at Island Seas. Super fresh whole fried snapper and conch in both fritters and salad. Try the amazing fried fish fingers at Capricorn and the best conch salad from the vendor to the left. Two Dollar Bar was supposed to have a great grilled conch, but unfortunately, we didn't get back there to try it.
What to do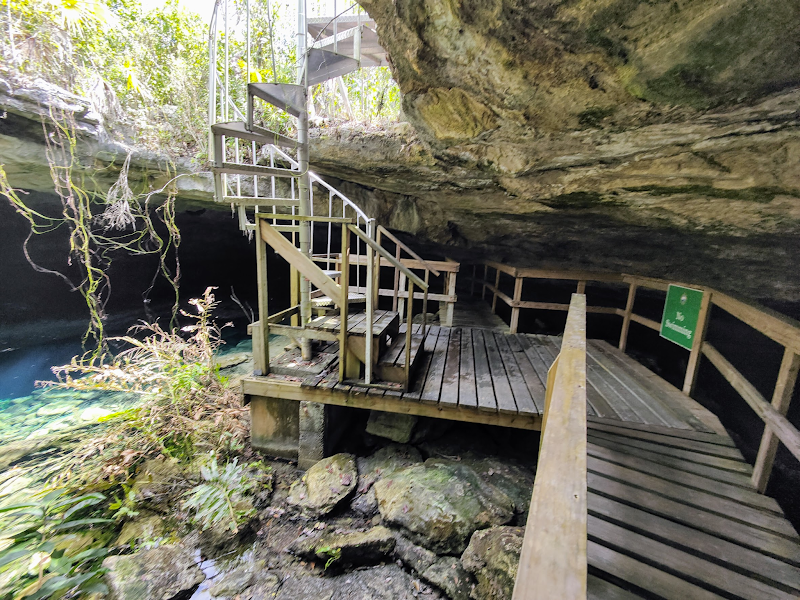 The major attraction on Grand Bahama is Lucayan National Park, where you can explore the nature trail and Ben's Cave – expect to spend about an hour doing both. Then cross the street and walk the planked path one-quarter mile through the mangroves to Gold Rock Beach. You can arrange for tours to drive you out to the national park, but if you have a car, it's easy enough to drive the 40 minutes east and see the nature trail and the cave yourself, as it doesn't require a tour guide, and then you are only paying the admission of $12pp.
While Gold Rock Beach is lovely – it was the site of some filming of Pirates of the Caribbean – just take a walk and some pictures there, and drive 8 miles further east to the hamlet of High Rock, where you will find Bishop's Beach Club Restaurant & Bar. Here there is an even more beautiful beach where you can swim, relax, and access the necessary facilities that Gold Rock Beach lacks.
Garden of the Groves is another nature experience where there are trails, waterfalls, and fountains.
Snorkeling – if you bring your own gear (fins, mask, snorkel), you can snorkel off any beach. Head towards some driftwood or darker patches of coral to see the pretty fishes. There are also plenty of boat excursions to take you out to reefs. Usually, the surf is very mild, but there was more wind and surf on this recent trip, so be cautious of the deceptive current, even if you are a strong swimmer with similar conditions. There were no lifeguards at any of the beaches we went to, so use your best judgment.